RACE REPORT DONINGTON – ROUND 7 & 8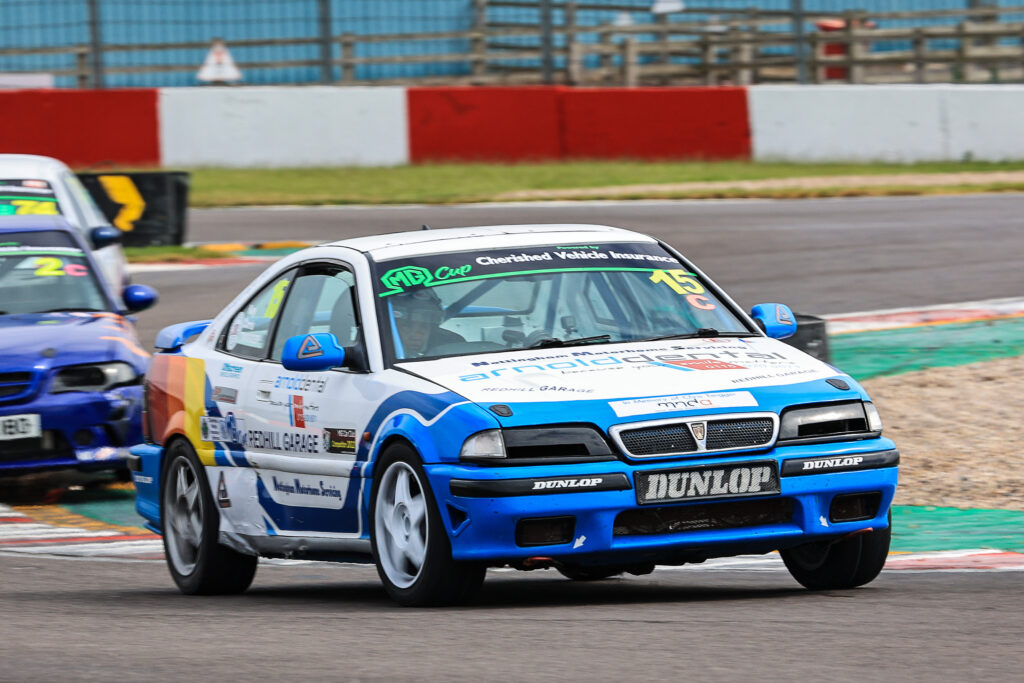 MGCC MG Cup powered by Cherished Vehicle Insurance
Richard Buckley continued his 100% win record in MG Cup's frontrunning Class C by winning the first Donington Park race, but he had to resist a strong race-long challenge from fellow Rover Tomcat Turbo runner Dave Nixon who had made significant improvements to his machine since the preceding Silverstone round.
Nixon rose from starting eighth after a wet qualifying to run second behind Buckley on lap one, and remained on his boot lid for the rest of the way, and might have got ahead had the race not ended a lap early with Peter Coleman's Metro off at Redgate.
Nixon said: "I've raced against Richard since 2005, 2006 maybe, so I know how he drives and we've had some good battles. It was great fun.
"I've done a lot of things to the car and it's transformed it back to how it should be. At Silverstone the car handled horrendously. The suspension mounting on the top, of the driver's side, the clamp that clamps it wasn't holding it in place properly when it was put under pressure, so I've modified it. I've got a full tyre's width on there [now] instead of just [a small amount] when it was pulling."
Buckley added: "It was relatively easy really, Dave started a bit further back, I just measured him a little bit. Just keep him at bay all the time. I think he could have been on me a bit more with another lap."
Ian Boulton held off his fellow MG ZR 170 of Iain Dowler to win Class B and take third place overall. Maddy Maguire meanwhile finished fourth in the class having qualified a stunning second overall, and she got Driver of the Race.
Steve Tyler took the Class A win after leader John Gil was nudged off at mid distance just after a safety car period.
In race two Buckley's victory run in 2022 ended at seven as this time Nixon got the better of him. Buckley led from pole on a now-tricky surface while Nixon dropped to sixth in the opening laps. Nixon though then rose and got on Buckley's tail by half distance, before passing him for first at Redgate. The pair remained interlocked for the rest of the way, and Nixon prevailed by 0.3s. Nixon also got Driver of the Race.
Nixon said: "Because it was raining so hard, I only softened mine [suspension] off a little bit and luckily it stopped raining. I was a little bit careful the first three or four laps and once Kayleigh [Twigger] went past me that really goaded me on to have a go.
"I caught up the others and I had a couple of places where I thought 'I can get past here'. And Richard came out the chicane a bit slower and I just got right behind him and thought 'I'm going past now'."
Maguire this time won Class B, passing Boulton at one-third's distance and winning by 4s, a showing that helped her get Driver of the Day to go with her race-one award. Dowler meanwhile dropped to the back on lap 1 with front-right damage on his 170. Gil won Class A.