MG CUP ENJOYS SUNSHINE ON RETURN TO CADWELL PARK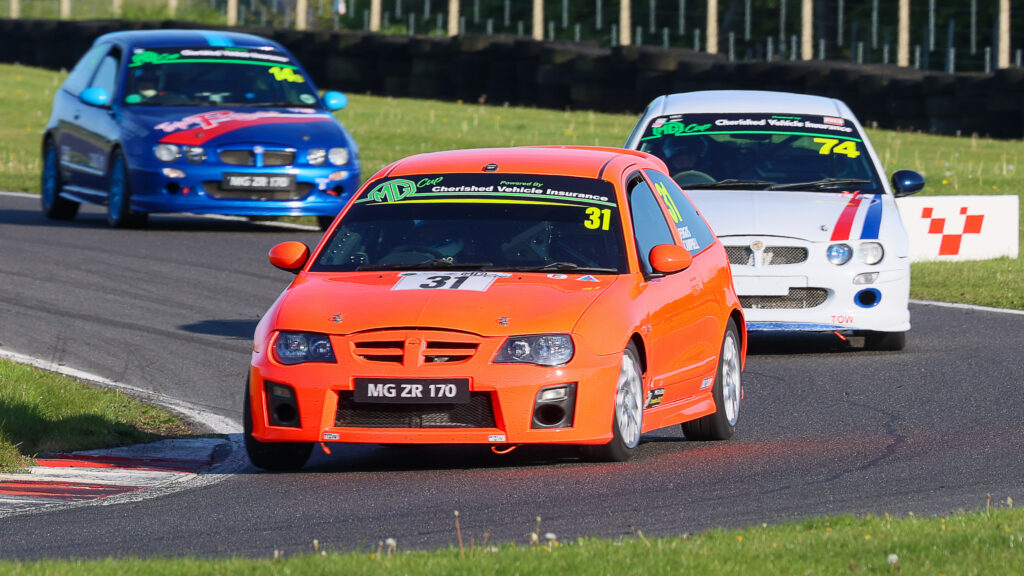 MGCC MG Cup powered by Cherished Vehicle Insurance
While Fergus Campbell claimed a dominant win in the opening MG Cup race, there was plenty of intrigue in the tactical contest going on behind. That would become the lead battle in the second race, in which Richard Buckley prevailed.
Campbell (pictured above), the current MG Trophy Class B champion, plans a relaxed season, and was making his first appearance in the MG Cup. Outright power is not as important at Cadwell Park as some other circuits, which Campbell demonstrated by putting his MG ZR 170 on pole position alongside the similar car of Ian Boulton (Car Number 74, above). The Class B pairing held that order throughout, with Campbell claiming victory by nearly 5s.
"Cadwell Park's a fantastic place to come to," enthused the victor. "You've got to keep your wits about you round here."
Behind them, Dave Nixon was struggling to maximise a new set of tyres on his Rover 220 Tomcat. Having to go defensive through Gooseneck to keep the similar car of Buckley behind compromised their overall pace and allowed a multi-car train to form behind. Eventually, the pressure told, and Nixon's trip over the Mansfield kerb let Buckley and Dennis Robinson (ZR 170) through, with Buckley winning Class C.
Seventh overall and winning Class A was Driver of the Race Marcus Short (Rover 216 GTi), who had qualified a fantastic third overall, and stayed among the main pack, clawing back in the corners what he lost on the straights. He would repeat his class success later in the day, albeit slipping to ninth overall.
From row two, Buckley jumped Campbell and Boulton at the start of race two and was joined shortly afterwards by Nixon in second. A similar train then formed behind the leader, with Buckley holding firm by making sure Nixon always had to think about attacks from behind as well as his own challenges for the lead.
"It was a bit of reversed roles there, wasn't it?" said 2019 champion Buckley. "I got an absolutely amazing start. I didn't do what I normally do which is spin the wheels up. Took it nice and steady, they hooked up, and that was it – I was gone!
"I saw Dave had had a fairly decent start as well. Fergus is a really good driver. He's class. So I pretty much knew that if I could keep Dave at bay, then Fergus would keep nibbling at him. I was playing him a little bit because I knew Fergus was there, so if I could just back him up a little bit, especially coming up through up over the Mountain and into the woods, let Fergus have a little bit of nibble at him, he's got to look behind him."
It worked well, and earned Buckley the commentators' Driver of the Race award, as he won from Nixon, Class B victor Campbell and Boulton, with father-and-son duo Dennis and Carl Robinson completing the closely-contested top six.